Yoga not only releases your stress but also b helps with anxiety, depression, insomnia, obesity and other ailments, Yoga is great for flexibility, for strength, and for posture and balance. Results from various mental researches have proven that Yoga helps you to release your negative and or convert into positive one . It is highly recommended for pregnant women  and those with glaucoma they just need to change a few poses just to avoid injury
One of the basic problem with the people is that they regard yoga as only an exercise and so they try doing it in the hardest possible way but doctors have proven that this may hurt you , you require calmness and patience you need to concentrate your entire attention towards one common power rather pushing yourself to do hard and complicated poses.
Physically yoga helps you to strengthen and tighten your muscles which tend to get loose and weak due to lack of physical labour.
Yoga enables you to fight against  breathing ailments like asthma. It helps you to have control over your breath and heart. 
 As we are aware that covid-19 has shown us times that we never thought of and it has become almost impossible to get back to our daily routines, then may it be our Yoga classes, but technology is highly unpredictable it finds solution for every problem and so it did for people who love practicing Yoga and wants to inculcate it as a daily habit without actually going to your Yoga classes physically . Yes, you can bring your Couples Yoga classes to your bedrooms. How ? Its very simple through your Mobile phones you can search end number of yoga tutorials and classes which will teach you yoga in the best possible way.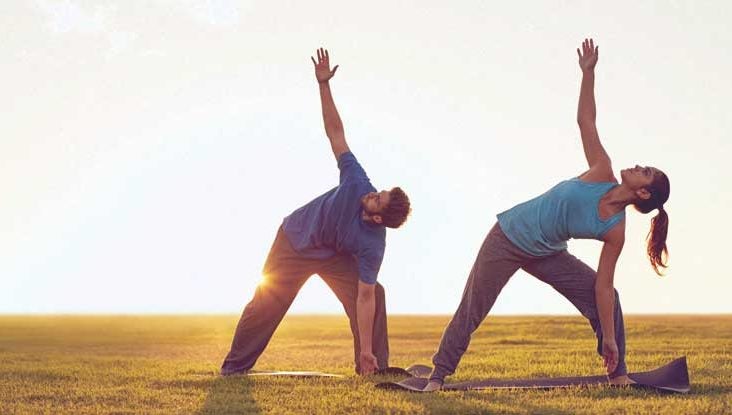 Here is a list of few Best online yoga classes
Purple valley Ashtanga Yoga – Ashtanga is a style of yoga that connects your breath to your body movements it is more over similar to vinyasa but involves faster movements , The Purple Valley channel features daily classes with re instructors, such as Deepika Mehta, David Robson, and Kino Macgregor who are world famous , this is the best possible step to begin with.
Spirit Voyage-  This channel focuses deeply on  connecting the mind and body, expanding consciousness, increasing awareness and to build your brain stronger. The Spirit Voyage channel features various kundalini which is one of the online Yoga Classes best to guide you through unique classes and meditations.
Yoga by Candace– This will be one of the best online yoga classes  if you are looking for more technical instruction , you'll ll really adore Candace and the way she teaches her students. Her concise style is best if you are short of time and go directly on point . Her efficiency is very well visible on her home page that catalogues  organizational meter listing dates, types of exercises and their levels. One should really go for Candace Yoga Classes it if by far among the best Online Yoga Classes 
Faith hunter- If you're looking for a soothing flow with a soulful quality, rather than just a physical and technical workout this will be the best suitable choice , they offer a number of guided meditation videos in addition to her yoga classes